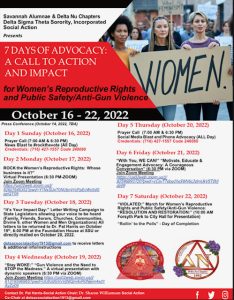 Savannah Alumnae Chapter, in partnership with the Delta Nu Chapter, is sponsoring "7 Days of Advocacy: A Call to Action and Impact" in response to decisions made concerning women's reproductive rights and the ongoing problems with public safety/gun violence.
This weeklong event will begin on October 16 with a Prayer Call and a News Blast, and it will culminate on October 22 with "VIOLATED:" March for Women's Reproductive Rights & Public Safety/Gun Violence.
Please join us for the important call to action!